I love the look of lucite furniture. It's so cool and modern and I really love it when mixed in amongst more traditional peices. Here's some that I found on Overstock. They have several to choose from.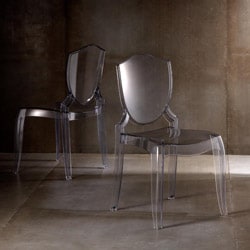 These are 2 for $246.00
This ones from Ikea and it's only $79.00, not too bad...
Love!
Can you see them? I just think there fun! There's an illusion of space since you can see right through them. They would be great anywhere, but especially for a small dining space or breakfast nook. Images are everywhere online. You can also do a serach for ghost chairs. They aren't cheap but they sure are pretty. There's so much lucite furniture out there from trays, to coffee tables, to lamps. Have fun looking!