Sunburst mirrors are everywhere these days. And I want one to be in my living room to be exact. I recently painted the wall over the fireplace with chevron stripes (pictures soon). And I have a large black square mirror resting on the mantel but I think a sunburst mirror or a round mirror would really highlight the space. So I've had my eye out for a sunburst mirror that I like and can afford. The search isn't going so well. Not that I can't find a mirror, I can't find the money to pay for it. Here are a few pictures of sunburst mirrors I love.
These are great sunburst mirrors from ballard designs.
Another idea I think would look good too and not as expensive is a quatrefoil mirror.
These are from Ballard, but I found one at Lowe's Hardware for around $69.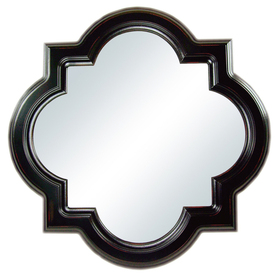 It's not quite as fancy, but for the money you'd save it would definetly make a great space filler. Still loving the sunburst, but who knows what will end up in that space.